BEGINNER SESSIONS
For those just getting started…Learn the basics. When you have a clear understanding of the foundation-forming movements of CrossFit, you'll be able to minimize the risk of injury while seeing long-lasting results, faster.  Join our fun and supportive Beginner Sessions to start your transformation the right way.
CROSSFIT
CrossFit is a strength and endurance program incorporating elements from several sports and types of exercise, and defined by CrossFit, Inc. as "constantly varied functional movements executed at high intensity across broad time and modal domains."
While that may sound fancy and mildly intimidating, remember that "intensity" is relative to the individual, and our coaches are trained to cater to all skill levels and age groups in our small group classes. With multiple versions of our daily workout, (including no-barbell and bodyweight options), THIS is the class you've been looking for!
COMPETE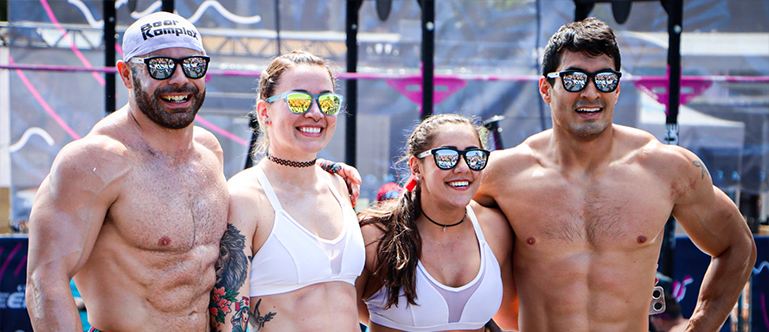 For those just getting started…Learn the basics. Whether you're new to competition, or simply looking for a program that can get you results without having to spend your entire day training, this is the program for you. All aspects (strength, conditioning, and gymnastics) are periodized and planned through the year to have you ready for the biggest events in the competitive fitness season. The training demands of this program are one session per day that may range from 60-120 minutes.
BARBELL
Team Soul Barbell is the premier weightlifting club in South Florida, catering to both the beginner and competitive lifter. Our coach instructed/small group sessions are set up to give everyone the attention they deserve to succeed.
TSBB includes access to a fully comprehensive Weightlifting and Powerlifting Program written by our highly accomplished coaches, who have achieved the highest honors within USAW and USAPL, as well as coached multiple national champions in both sports.
PERSONAL TRAINING
One-On-One & Small Group Training. For those looking to fast-track your results, there are no shortcuts, but we can help! Schedule a one-on-one session or organize personal training for you and a couple of friends. This is an awesome way for beginners to learn the requirements of training, or for experienced gym-goers to take their fitness to the next level and give some extra attention to your gymnastics movements or barbell lifts.
SOUL AT HOME
Simple, effective, 60 minutes or less programming that can be done from the comfort of your home. Three different programming options delivered daily, all built around being able to work out at home, includes skill, strength, and daily accessory work as well!
The three workout variations are as follows…
Mainsite: Old school style CrossFit workouts. Volume and structure are consistent with CrossFit classes at your affiliate.
Lite: Dumbbell or Kettlebell adapted version of the Mainsite workout. Meant for those with minimal equipment.
Flow: Bodyweight version of our daily workout. Great introductory options with plenty of progressions, options, scales, and more. Perfect for beginners, or those inclined towards focusing mainly on bodyweight movement
Dial-in your fitness by way of wholesome, fuel-focused nutrition. We've created a fine-tuned nutrition program, powered by Working Against Gravity, to ensure that every minute you spend in the gym pays off — mentally and physically. Our nutrition coach will work with you to help you turn your sweat sessions into the results you're after.
This program pairs you with a nutrition coach from our gym who has been screened, trained and certified to teach you the ins and outs of meal prepping, weighing, tracking and more. Your coach understands that every physical body is different. They listen, adjust and help you learn how to make sense of your own anatomy and relationship with food. Because no two bodies are the same.
Training Hall Sessions
2 hour, Open Floor style session – multiple coaches available, ready to assist whether you are participating in the group workout of the day, weightlifting/powerlifting, cardio, or skill work we're here to make sure you get the MOST out of your time while here at Soul
All skill levels welcome! All members of Soul have access to these sessions. Need guidance? A group fitness class will also be taught at the beginning of each training hall for those who are looking for more direction
GROUP FITNESS CLASSES
1 hour CrossFit Style – Small Group fitness class
Are You Trying CrossFit for the first time?
Schedule a free consultation, and our team will guide you in the right direction!